Search engine optimization on WordPress websites is crucial for increasing your site visitors. Suppose you have written unique content but do not perform its SEO. Chances are that your website will not rank.
The reason is that search engines like Google rank websites using its advanced algorithm. And following these techniques are called SEO. If you want to study SEO deeply, check out this article.
Now we know that almost 43% of all websites use WordPress, and this percentage is rising daily. The reason is that WordPress is an SEO-friendly content management system that provides easy ways to optimize a website without using code.
Now the question is how we can do search engine optimization of WordPress. Don't worry. In this article, I have the solution to your problem, where I will guide you on how you can do search engine optimization of your WordPress website that boosts your web ranking in search results. So here we go.
10 easy tips for doing SEO on WordPress
Most people think doing SEO is quite intimidating, and they cannot handle it themself, so they hire professionals to do this job. But at the end of this article, you realize it is not a giant black panda to fear from. Here I will share 10 easy and simple ways to do search engine optimization on WordPress websites that will make your website SEO-friendly without going into so much depth.
Check your WordPress search engine visibility
If you have checked the WordPress setting, you probably have seen the search engine visibility setting in the reading section, which is ideally unchecked. Its purpose is to make your site visible to search engines. But sometimes, this option can get checked, hiding your website from a search engine. So make sure that your website visibility section is unchecked.
To check your visibility status, open your dashboard, go to the setting, and then read. Make it unchecked and do not forget to save the changes.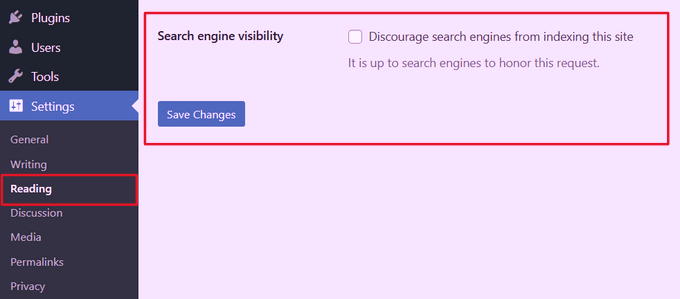 Use WordPress SEO plugins
Having your website on WordPress is also helpful in providing free plugins to do SEO on your WordPress website. These plugins give you essential suggestions for the on-page SEO of your blog post.
There are the top 3 plugins that you can use for SEO on WordPress. These are:
All-in-one SEO plugin
Yoast SEO
Rank Math
You can use any one of them for SEO purposes. They will help you write better content much liked by search engines and users.
Top 6 SEO Friendly WordPress Themes 2023
We will probably use colorful and pleasant themes for the eyes and make our website more classy. But do you know that some themes are SEO-friendly compared to others? They are faster and lighter than other themes. Some of my favorite SEO-friendly themes are here:
Use tags and categories
While creating content for your website or building an eCommerce store, classify your content into different blocks, which makes it easier for a user to reach their desired results. Using categories makes your website user-friendly, and we know Google favors better user experience than anything else.
To add categories in WordPress, open the WordPress dashboard, go to posts, and then type.
Tas is the keywords on which you want to rank your website. So, use such tags, which help search engines determine your content type and make it search-engine friendly. To add tags to your website, go to the posts and tags section and add tags related to your niche.
Fix your permalinks
Permalinks are the URL users see at the top of the search bar when he opens a blog post. They help both users and search engines to guess your main topic. Now there are different permalinks containing post names or numerals at their end.
For example:
epicmarketo.com/blog/example.com-2312
epicmarketo.com/blog/how-to-make-your-website-SEO-friendly
Look at them and decide which one could be more SEO-friendly. Of course, the second one. The reason is that in the last one, the URL clearly shows the main topic of discussion or what a user can expect while reading a blog post. That's why to use SEO-friendly URLs for better optimization.
To check your permalinks, go to the WordPress dashboard —->settings —>permalinks.
Select between www and non-www URL
If you are a regular internet user, you have noticed two URLs: one with www and the other with non-www. Search engines identify both of them as separate identities. Although choosing one of these two does not affect SEO, choosing only one URL is necessary.
To set your preferences, go to the WordPress setting and then general, where you can select the URL of your choice.
Use internal links on your site.
Using internal links on your website increases your traffic and helps improve your website authority. It makes crawlers move from one blog post to another by using internal links. So use internal links in your website for better SEO.
Optimize website images
We know images are more engaging and make your content more attractive. But, they also take more loading time, so if you do not optimize your photos, they will slow down your site loading speed. Humans dislike waiting, so if your images take more time to load, it will reduce the reader's interest, and he will go to another search result.
That's why it is essential to optimize images on your website so that it makes your web content worth reading. WordPress also makes it easier to compress and resize images by using the Smush plugin. This easy-to-use plugin optimizes image size, which reduces web page loading speed.
To install Smush, go to the WordPress dashboard and plugins.
Do comments optimization
No doubt that Comments are one of the best ways to engage your audience with the content, but sometimes spam comments give wrong signals to the search engines, and they can de-rank your website because of spammy links or content. That is why it is essential to optimize comments on your website. For this purpose, WordPress has a lot of plugins to block spammy comments. Some popular plugins are spam protection, antispam, firewall by clean talk, and all-in-one WordPress security and firewall.
Use SSL/HTTPS on the website.
SSL (Secure Socket Layer) is the additional protection layer between the user's browser and server that protects your website's all credentials, like login details, passwords, etc. Although every website has security protection, hackers can hijack them. So SSL provides additional protection to the websites. You have probably seen the website's URL with a padlock and HTTPS at the start. It shows that the website is SSL protected. Also, Google showed HTTPS as a ranking signal. It means having an SSL certificate for your website also your ranking. Learn how to get an SSL certificate from allowed resources from here.
Conclusion:
In the end, following these SEO tips will boost your rankings and make your website search-engine friendly. I hope this article will help do search engine optimization of your WordPress website.